Beaten Coffee - All Flavours
Let customers speak for us
Coffee was good but...
For a normal person it good but I've tasted like every type of coffee there was somthing that was missing is this one.
FREE COFFEE
Not Worth It
Paid 200 bucks for two tiny plastic boxes containing mostly sugar and flavoured syrup. One could literally buy a box of filter coffee sachets with a 100 or 50 bucks more
FREE COFFEE
The caramel coffee is very good
FREE COFFEE
Good coffee
Great texture and aroma, 5 stars ✨✨
High Octane Original Coffee
Awesome 🤩
Best beaten coffee ever tried ..
Good idea
FREE COFFEE
This is good
The coffee is good in taste. There is no bitterness in it and instead more sweetness is present in it. But this has a very less caffeine content due to which I am not fully satisfied with the product. For me, presence of sufficient or standard amount of caffeine in a coffee is a must. I like to consume it as a Cold Coffee mostly. Apart from all these, there is no product information like ingredients it contain, manufacture and expire date of the product, price and all other necessary info that a product should have. Now I don't even know whether I am consuming an expired product. This is not legal, to sell a product without mfg and expire date. This info is mandatory in each and every food product, even if it is a promo product. Kindly look into this ASAP and fix it on high priority.
FREE COFFEE
Really good taste!!
I ordered the free promo product containing two products namely caramel and original. I liked the caramel flavour. Overall the product is very good.
FREE COFFEE
Nice and strong
Makes coffee making very convenient. Great taste and strength. Loved it.
FREE COFFEE
Good taste, bold flavors
Tastes like fresh bean coffee exactly how you live it
FREE COFFEE
Amazing taste
I just loved the taste and flavours as expected.
FREE COFFEE
Super tasty
The taste of caramel blended with coffee .... Is toooo good to wake you up with a smile ...totally worth it. Very soft texture .. even without sugar .. loved it
Caramel Crush Coffee
Wild taste
Strong flavour like my taste....
FREE COFFEE
FREE COFFEE
Refreshing, strong and simple
FREE COFFEE
FREE COFFEE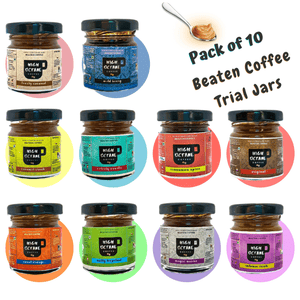 Not Sure What to Buy? Try All Flavours of Beaten Coffee Sampler Set - 30g Trial Jars !
Sale price
Rs. 899.00
Regular price
Rs. 990.00
Unit price
per
Tax included.
Shipping
calculated at checkout.
Full details →
Ceramic Coffee Mug | Made by Local Indian Artisans | High Octane
Sale price
Rs. 319.00
Regular price
Rs. 399.00
Unit price
per
Tax included.
Shipping
calculated at checkout.
Full details →
Reviews from our customers

Recently tried this super yummy and amazingly frothy beaten coffee from @highoctanecoffeeco. Guys go buy these beaten coffee jars for yourself if your a coffee lover like me. They come in different flavours but my favs are Caramel Crush and Nutty Hazelnut.
- Navnita Makkar


High Octane Coffee reduces my time and effort of beating. Makes tasty frothy coffee instantly. Taste is very perfect and really worth my money.
-Vernika Suryan


Super easy to use and gives the flavor like you have beaten the coffee for half an hour. Perfect cup of strong coffee, as I like it. I start my day with this coffee.
-Manik Sajnani


Even though I'm a black coffee drinker, I got hooked to High Octane Coffee's delicious flavors after I sampled them at a friend's place! This is the only drink I have during winters and I can never have enough.
- Asim Khan


This coffee tastes unique and has amazing texture. Quick to make. It has a rich aroma and tastes amazing. Must have for coffee lovers.
- Kumar Pranjal